The Package Jam is officially over!
Congratulations to all the winners and thank you to everyone who participated in this year's Package Jam!
If you've missed our winner announcements stream, you can catch the VOD at any time here: https://www.twitch.tv/videos/1649234971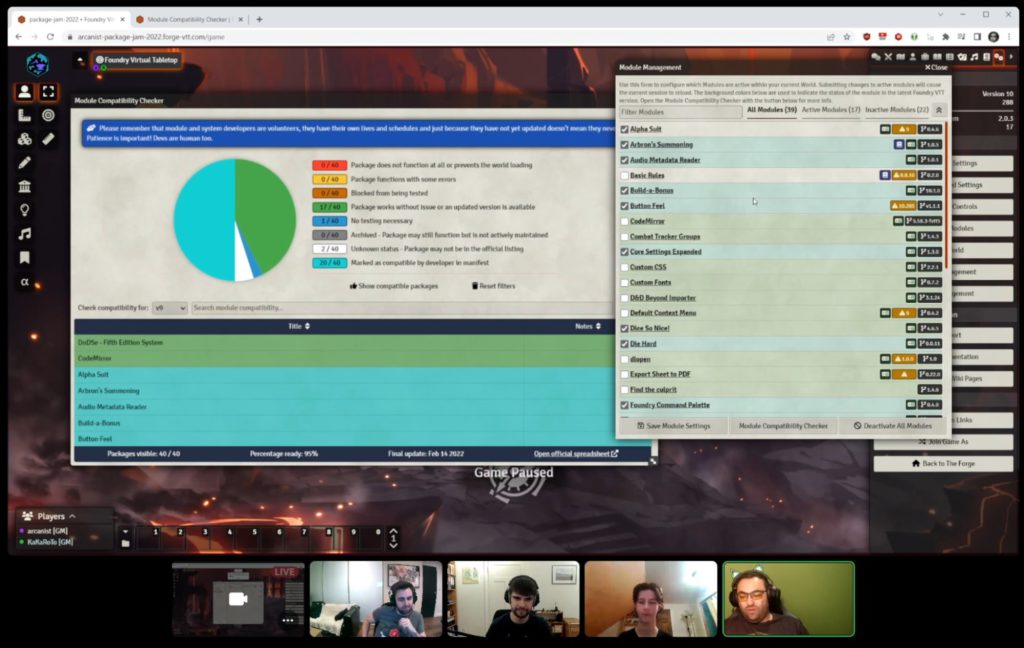 And for those who just want to see the results, here they are :
Best Package
Module Compatibility Checker by @arcanist – Receiving a 100$ gift card from @friendlylambda
module
Created 26 Jul 2022
Updated 09 Feb 2023
Authors Arcanist, Michael Leahy
Module Compatibility Checker Check your module list for compatibility with the latest major version of Foundry VTT. Come hang out …
Best First Package
Foundry Command Palette by Filip Ambrosius (@aMediocreDad) – Receiving a 25$ gift card from @errational
module
Created 14 Aug 2022
Updated 27 Aug 2022
Author Filip Ambrosius
A programmable command palette for the Foundry Virtual Tabletop. Installation You can find Foundry Command Palette in the Foundry VTT …
Most Useful
Items with Spells DnD5e by Andrew Krigline (@calego) – Receiving 3 Michael Ghelfi audio modules from @ghost
module
Created 18 Sep 2022
Updated 09 Aug 2023
Authors Andrew Krigline, Zhell
This module aims to allow users to attach spells to items in such a way that when the parent item …
Most Polished
Build-A-Bonus by @Zhell – Receiving 3 Michael Ghelfi audio modules from @ghost
module
Created 26 Aug 2022
Updated 20 Sep 2023
Author Zhell
Build-a-Bonus 2022 Package Jam winner of the 'Most Polished' category and runner-up for 'Best Package' A module for the Foundry …
Mind-Blowing
Arbron's Summoning by @Jeff "Arbron" Hitchcock – Receiving a 50$ Rollsmith gift card from The Rollsmith
module
Created 25 Aug 2022
Updated 28 Aug 2023
Author Jeff 'Arbron' Hitchcock
This module is designed to make it easy as pie to summon creatures within DnD5e using a simple interface that …
Wackiest
Die Hard by Jeremy (@glutious) – Receiving a 1-month sub to dropout.tv from @BadIdeasBureau
Most Gorgeous
Button Feel by @LeBombJames – Receiving a 25$ gift card from @ccjmk
module
Created 30 Aug 2022
Updated 07 Jan 2023
Author LebombJames
Button Feel Because buttons should feel good. This tiny module adds a slight tint to buttons when you click them, …
Most Massive
Alpha Suit by @Averrin – Receiving 3 Michael Ghelfi audio modules from @ghost
module
Created 27 Aug 2022
Updated 11 Jun 2023
Author Averrin
Alpha Suit This module is useful if you want to organize large trees of actors and items or for dealing …
Most educational
Audio Metadata Reader by @ghost – Receiving a 25$ gift card by @corporat
module
Created 29 Aug 2022
Updated 29 Aug 2022
Author Johannes Loher
Allows setting the title of Playlist Sounds based on the audio metadata of the underlying files. This module adds new …
Most Integratable
Multiple Document Selection by @ironmonk – Receiving The Singing Grove adventure by World Smiths & CZRPG
module
Created 05 Aug 2022
Updated 20 Jul 2023
Author IronMonk
Multiple Document Selection Foundry VTT module to allow you to select multiple items on a sidebar. So you can move, …
Every winner also receives a 20$ Forge gift card from The Forge, a T-shirt from Foundry Gaming, and 3 asset packs from Wild Magic Surge.
Every contestant will also receive a special 3D dice by The Rollsmith.
Thank you to all the sponsors for making this such a success, and thank you again to all who participated, voted, or helped along the way!
Congratulations to all the winners, and see you at the next Package Jam! 🎉