The stable release of Foundry VTT version 9 (V9) is here and it's major, with a lot of changes – over 500 in fact, according to the official release notes.
If you want all the details, then head straight to the notes above, this update, and this video. See you in a few hours!
Or…if you're looking for a summary, we've got you covered – we've spent a couple of weeks trying out V9 and will share some of the things that could help Game Masters (GMs) and Players get even more enjoyment from their games.
The Nine
1) You can improve the mood of your scenes without even trying.
In V9, light sources come out of the box with Adaptive Luminance (light looks different on top of different backgrounds) and Gradual Illumination (light tapers and fades naturally at the edges) enabled. Of course, things can be customized extensively, allowing the GM to realize their artistic vision.
"Oftentimes the quality of the light tells the story: the time of day, the weather, whether sun is streaming through the window. It can also help you appreciate what the actor is feeling, what the playwright wants you to feel. Any engineer can put a spot on someone."

– Jules Fisher, Lighting Legend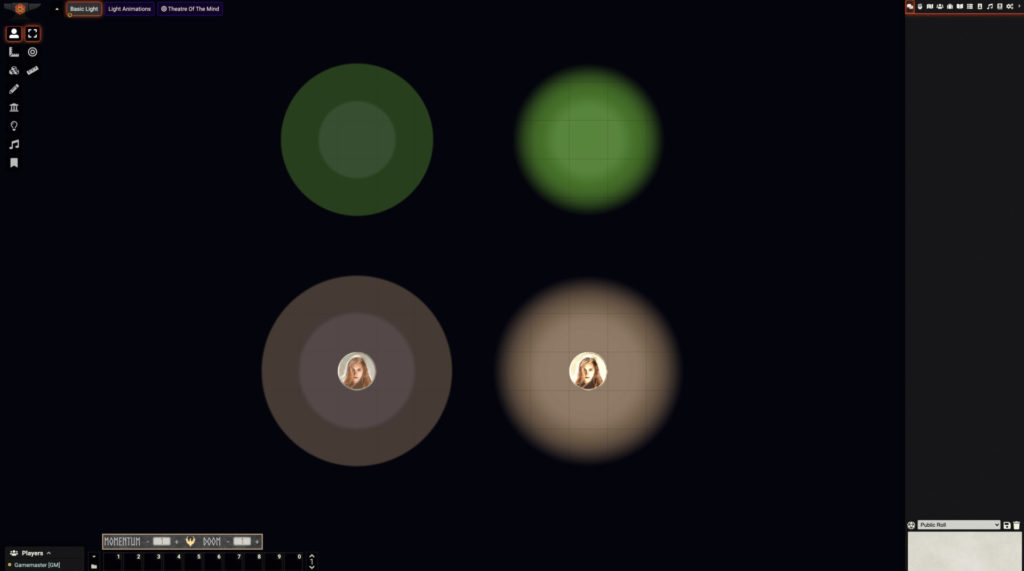 2) You can enthrall your players with even more custom lighting animations and effects.
If you do want to go deep into lighting, there are five new native light animations for you to try, as well as sliders for Saturation, Contrast, Shadows, Color Intensity, Darkness Activation Range, and more. With these tools and a few minutes of work, you can spin up all kinds of weird and magical effects: create an eerie fog, a crazy spell effect, or a plunging vortex of infinite darkness!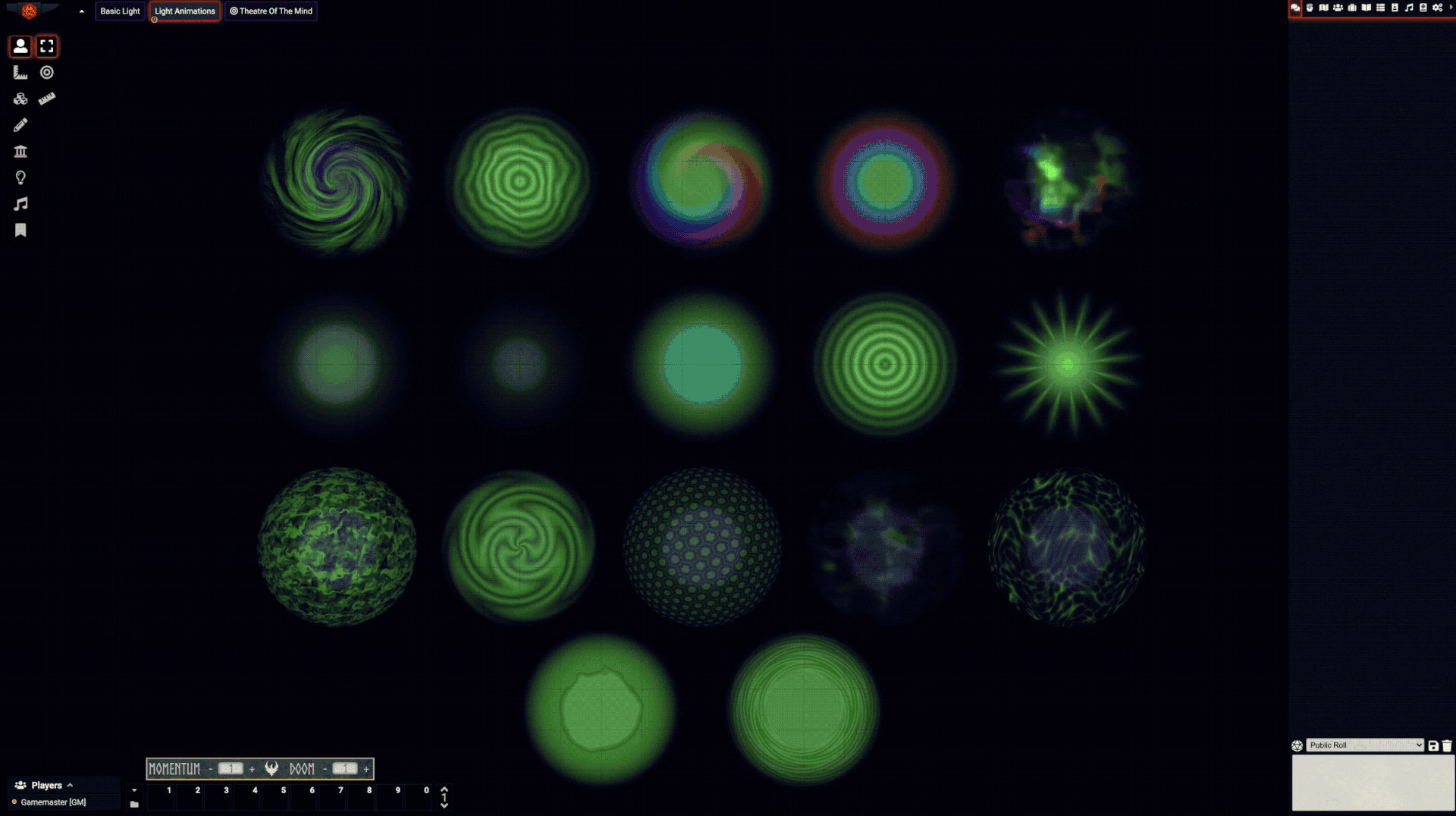 3) You can easily add dynamic audio sources to your maps.
When you place a dynamic audio source on the map, it triggers that audio when someone moves their token nearer to it. You can now upload the audio then drag it onto the canvas. Perfect for things like crackling fires, babbling brooks, or ghostly laughter. And traps.
4) You can manage your music more easily now.
Playlist re-ordering is now a core feature, meaning your music can be added, modified, and re-ordered in a much more streamlined way. Audio in general is also much more stable – you can play and stop sounds continuously without worrying about your game slowing down or freezing up.
5) You can sling playing cards around now.
Well, not literally, but they can be used in the form of decks, hands, and piles. This means real-world card games can be simulated, but will also be of great interest to GMs who want to integrate card decks from existing systems (with a bit of work). Since you can upload images for the cards, just about anything can be made into a deck – Pathfinder Crit/Fumble decks, spell decks, chase decks, background decks, NPC decks, you get the idea.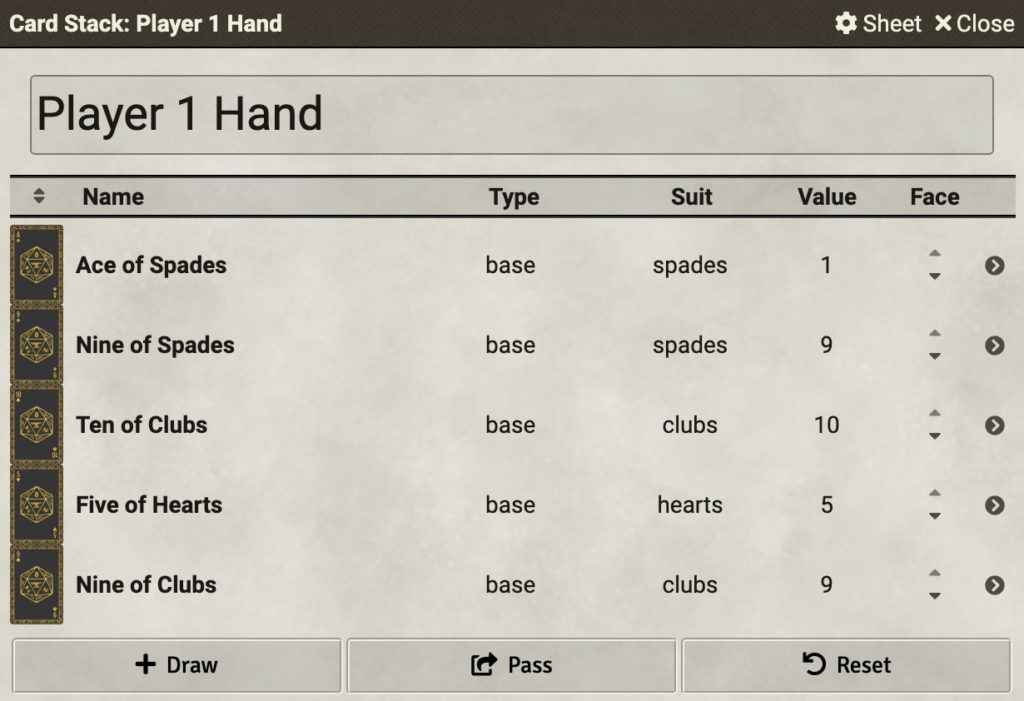 6) You can switch scenes but keep the combat rolling.
When you have players move from one scene to another (say an epic battle or a chase scene), the encounter in the combat tracker can now follow to the next scene. Whether moving from inside a tavern to outside in a big fight, or from a dungeon hallway and into a large chamber, this feature ensures a smooth transition.
7) T is for 'target'…if you want.
Everyone can easily customize their own keybindings now. Choose your shortcuts to open the character sheet, target tokens, pause the game, measure things, and more. There are 58 actions you can map by default and more with modules. There's even some support for gamepad controls for things like moving tokens around the canvas. For players who like customizing their action bars and GMs who like to optimize their setup processes, this is a big improvement.
8) You can cram more goodness into your game, for the same performance cost.
You would think all of the above makes the whole thing a bit more clunky right? Wrong. Actually, overall performance is improved due to a whole lot of technical things which have been optimized, including the way light is treated (canvas loads first, then light is applied) and the way compendiums are indexed (in short, all your stuff loads quicker now).
9) It's easier to bring new players to the game.
The new performance mode suggests (and defaults to) settings based on a user's computer. This is the kind of feature which might seem small, but it could reduce the amount of troubleshooting and tech support the Game Master needs to provide, which is mostly a good thing (unless you are one of those GMs who get a kick out of also being a technical legend).
Installing V9
Interested in trying these out? Before choosing to update, check if your existing game and modules are compatible with V9. It's likely they are, or will be soon. Below is a summary of the module testing status.
If you've made the choice to proceed, let us remind you of the most important thing to do when updating to a new version back up your data! It's written in the release notes and repeated often, with good reason! Also, for V9 it's strongly recommended to do a full reinstall of Foundry VTT.
For more support on the installation and configuration of your game, you can always refer to the official documentation, or feel free to join and ask your questions on the Foundry VTT Discord Server.
The Response so Far
V9 continues the Foundry VTT tradition of rapid, transparent, and incremental improvement. With some research, it's possible to get a very deep understanding of the technical changes; and the feedback on these changes seems pretty positive, at least based on what we are seeing in Discord chat and Reddit.
There's also a good response from the developer community, for example:
"In Foundry v9, the lighting system has received a much needed face-lift. It's faster, more accurate, and extremely beautiful – the fact that lights manage to blend colors to a realistic standard is mind blowing for a 2D virtual tabletop; the shadows feel darker and lights have more oomph.

I'm running a Curse of Strahd campaign and as my players had returned to previously explored maps, I've managed to wow them with the improved lighting – they've even expressed wanting to go back even further just to see what's changed. If this update hasn't convinced you to get into Foundry, I don't know what will!"

–Wasp, the creator of Fantasy Calendar and a developer with the League of Extraordinary Foundry VTT Developers
Though V9 is in its early days, and the Foundy VTT team deserves some rest, we asked them to comment on the overall feedback they've received so far and how they're feeling about reaching this milestone. They graciously responded:
"We've gotten a lot of positive feedback about the new lighting engine, both from users as well as from content creators who are loving the power it gives them to create beautiful scenes. Many users are also really excited about card support, although we've also seen some fair criticism that the UI/UX for card support is a bit rudimentary. I think this is to be expected given the amount of underlying infrastructure we needed to do in order to provide a stable foundation for the cards API.

Overall, I think the feedback we've gotten is positive and that V9 is the most stable, feature-complete product we've created to date and we're all looking forward to continuing to improve on it in V10."

– Atropos, creator of Foundry VTT
Have you tried V9? Let us know what you think in the comments below, and have fun.